Kitchen pendant lighting is one of the best ways to add style and brightness to a kitchen. In this post I'll answer the most common questions that a homeowner will face when choosing and installing pendant lighting in a modern kitchen.
Kitchen Pendant Styles and Examples
Remember that pendant lights are one of the most visible features of a kitchen. They create a focal point and will have a big impact on your overall kitchen design.
Traditional Style
Traditional pendants get their style from the 18th and 19th centuries. It is comfortable but not overdone. Traditional style pendant lights often feature iron and glass.
Contemporary Style
Contemporary style is all about current design trends. Contemporary pendant lights have seamless shapes and clean lines that integrate into the overall flow of the kitchen.
Transitional Style
Transitional style kitchen pendants area a modern version of a classic design. They're compatible with traditional and contemporary styles.
Farmhouse Style
Farmhouse style pendant lights blend rustic and modern, wood and wire, old and new. They have a relaxed but contemporary feel.
Modern Style
Form follows function is the decree of modern style. Kitchen pendants with integrated LEDs lend particularly well to modern design because the light source blends into the fixture itself. Here are a few of my favorites.
Industrial Style
Industrial style incorporates raw building materials and rich colors into the design. In a kitchen, this can include features like exposed ducts, brick accent walls, concrete floors or counter tops, iron shelf brackets, etc. Industrial pendant lights are often steel, bronze, or brass with exposed light bulbs or metal shades.
Rustic & Southwestern Style
A rustic kitchen consists of rich colors and earthy tones. Look for pendants with natural finishes like metal and wood.
Crystal Pendants
While not actually a design style, crystal pendants can be used to add bling and sparkle to an otherwise boring kitchen. Their style can range from traditional to modern as you can see in the examples below.
Types of Kitchen Pendant Lights
Pendant light fixtures are classified into types that often describe their shape or light distribution. When comparing pendants, it's important to consider how the light will be emitted from fixtures.
Pendant Lanterns
Pendant lanterns are usually made from metal and glass. They originate from traditional or transitional styles but can cross over to more contemporary styles. Like chandeliers, lantern pendants are often suspended by a decorative chain with the cord weaving through it.
Pendant Bowls
Pendant bowls offer diffused light that is soft and comfortable. Light passes downward through the translucent glass bowl, and also upward from the bowl where it reflects off the ceiling.
Pendant bowls must be mounted at or above eye level so that you don't see into them.
Pendant Downlights
A pendant downlight uses a reflector shade to direct the light in one direction. They make excellent task lights above kitchen counters or sinks.
Diffusing Pendants
Diffusing pendants provide a combination of task and ambient light to a kitchen. They use a glass, plastic, or fabric shade to shield the light source and diffuse it. Common shapes are drums, cones, and orbs.
Miniature Pendants
Mini pendants, sometimes called low voltage pendants, use a small transformer hidden in the canopy to convert the standard house current of 120 volts to 12 volts. This allows the pendants to hang from a thin cable that is barely noticeable. They also use a more compact type of light bulb that can be halogen, xenon, or LED.
LED Pendants
Integrated LED pendant lights are the newest type of fixtures. Just like LED recessed lights, LED pendant lights don't have removable light bulbs. The LEDs are integrated into the fixture itself.
While LEDs have an extremely long life of 25+ years, a valid concern is that if the LED burns out then the entire fixture has to be replaced. For this reason, make sure any LED pendant you purchase is from a reputable brand and supplier with a warranty.
Kitchen Pendant Parts Overview
Let's look at the various parts that make up a pendant fixture, so you know what you're looking at when you shop.
Canopy
The decorate cover that sits against the ceiling. Its purpose is to cover the electrical box, mounting bracket, and wiring connections inside the ceiling. Most are 4-3/4″ – 5″ in diameter to fit over a standard electrical junction box.
Rod, Cable, or Chain
Depending on the style, a pendant may use a rod, cable, or chain to suspend the shade and support the electrical cable running from the ceiling canopy to the lamp.
Lamp Holder or Body
The lamp holder or body of a pendant connects the rod or chain, the shade, and the lamp together. Some pendants use a universal lamp holder that will fit various styles of shades.
Shade, Globe, Drum, or Bowl
The decorate piece that covers the bulb or LED. Not only does it contribute to the style of the pendant, it also determines how the light will be distributed.
For example, an opaque cone shade will direct the majority of its light downward onto a surface, whereas a clear globe will allow the light to shine in all directions. A drum shade will direct most of its light upward and downward, depending on the opacity of the drum.
Size and Placement of Kitchen Pendants
The two most common places for pendant lights in a kitchen are above the island and above the sink. Hanging lights above these two work areas can provide the task lighting that's needed for common kitchen tasks such as meal prep and washing dishes.
Pendant Lighting Above A Kitchen Sink
A pendant light can make an excellent task light for the kitchen sink. When installing a pendant light over a sink, there's a few decisions that need to be made.
What size should a pendant light be over a kitchen sink?
The size of a pendant hung over the sink should be relative to the space. If the sink is in an island, read on to the next section. If the sink is against a wall, I recommend keeping it under 12 inches so that it doesn't hang too close to the wall or in your face when standing at the sink.
How high to hang a pendant light over a kitchen sink?
A pendant light should be a minimum of 32-inches above the sink. The last thing you want is bump your head or be staring into a light while washing the dishes. If you have low ceilings or a soffit above the sink, you could also consider a semi-flush mount light fixture.
Kitchen Island Lighting
Walk into any model home nowadays and you're sure to see pendant lighting over the kitchen island. It's one design trend that is here to stay.
How many pendant lights over a kitchen island?
The number of pendant lights to install over an island depends of the size of the pendants and the length of the island.
Here are some general guidelines you can follow:
| KITCHEN ISLAND LENGTH | NUMBER OF KITCHEN PENDANTS |
| --- | --- |
| 4 ft | Two mini-pendants or a linear multi-light pendant fixture |
| 5 ft – 6 ft | Two pendants |
| 7 ft | Two to three pendants |
| 8 ft – 9 ft | Three pendants |
| 10 ft+ | Three to four pendants |
If the island has a counter top with seating, another simple approach is to match the number of pendants to the number of barstools or place settings that fit at the counter.
How far apart should kitchen island pendants be?
Kitchen island pendants should be spaced a minimum of 24-inches apart, and ideally closer to 30-inches apart. Ultimately the spacing will depend on the length of the island and the number of pendants being installed.
To calculate how far apart the pendants should be, follow the same spacing formula that that's used for recessed lighting: The distance between the lights is always double what it is at the ends. Use this as a starting point, and then you can adjust the locations a little in either direction if needed.
Should pendants be centered to kitchen island?
Yes, pendants should be centered to the length of the kitchen island, but not necessarily the width. If the island has a countertop with barstools, then you have the option to center the pendants above the seating area placed 12-18 inches from the edge of the counter surface.
If the island does not have a bar with seating, I would center the pendants above the island's length and width.
How high should pendant lights be above a kitchen island?
The general rule is the bottom of the pendants should be 30" to 36" above the countertop. This will ensure the hanging height is above eye level so that you're not starting into the pendant's lamp.
What size pendant lights over a kitchen island?
To determine what size pendant light to install over a kitchen island, you can use this general guideline: the size of the pendants in inches should be no larger than the sum of the island length plus island width in feet.
For example, if your island is 3 ft. wide x 6 ft. long, then the maximum size pendants should be around 9-inches in diameter (3+6). This is just a general guideline to give you a starting point to reference.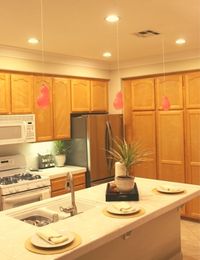 If you would like to visualize how various size pendants will look, I have a trick that will help you. Blow up a couple of balloons and tie a string on each one of them. Then tape the ends of the strings to the ceiling to hang like a pendant.
You can use any object, but balloons work great because they are light and you can easily make several sizes until you get the one that looks right for your kitchen.
Kitchen Pendant Lighting Mistakes To Avoid
Hanging a pendant in front of a cabinet door
Be sure that cabinet doors will clear the hanging fixtures when opened. It may seem obvious, but it happens. A common scenario would be hanging pendants over a peninsula counter top that has an upper cabinet where it meets the wall. See the picture below.
Connecting all of the kitchen lights to the same switch
Whenever possible, I recommend that the pendant fixtures be controlled by their own switch.
If you're not sure what to do, just ask yourself if you would ever want to be able to turn on the pendant lights by themselves – without having the rest of the kitchen lights on at the same time? If so, then put them on their own switch.
Not installing a dimmer switch
All of your lights should be controlled by dimmer switches. They are a relatively inexpensive way to make your lighting comfortable at any time of the day or night.
Choosing the wrong color temperature
The color temperature of your pendant lights should be consistent with the rest of your kitchen lights, within a few hundred Kelvin (K). For example, if your recessed lights are 2700K (warm white), don't use pendants that are 4000K (bright white). They should be 2700K-3000K.
Using the wrong type of shade
A pendant's shade is what determines how the light is distributed, so it's important to match it to the desired effect. For example, drum pendants shine up and down while diffusing the light that projects sideways.
Final Thoughts
Kitchen pendant lighting is important part of a kitchen's lighting plan. While recessed lighting and under cabinet lighting are also essential, pendants provide the style and pull the overall kitchen design together.