Whether shopping online or at your local home improvement store, there are a lot of options for LED recessed lights. In this guide, I'll introduce you to 3 of the best LED recessed lights used by professional electricians in 2022. I've installed the recessed lights on this list in thousands of homes in recent years which is why I can personally recommend them.
My Top 3 Choices for The Best LED Recessed Lights
The Best LED Recessed Lights Reviewed
As an electrician and business owner for many years, I know firsthand the importance of installing quality products. Using inexpensive or generic products could very well end up costing more in the long run if they have to be replaced. Using high quality lights should always be factored in to the overall cost of installation.
The recessed lights on this list have been chosen based on the qualities that I consider to be the most important. They include safety ratings, performance, reliability, appearance, features, and more.
---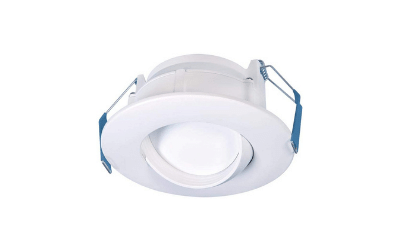 Size: 4-inch
Type: Adjustable gimbal
Mounting: Direct-mount
Color Temperature: Selectable (2700K-5000K)
Brightness: 768 lumens
CRI: 93
Beam Angle: 80 degrees
Wattage: 8.4 watts
Material: Aluminum
Smooth Dimming: Yes to 5%
IC Rated: Yes
Air-tight: Yes
Why is It the best recessed light for sloped ceilings?
As I've mentioned before, it's always recommended to use an adjustable recessed light fixture with sloped ceilings so that the light can point downward towards the floor. This prevents glare and keeps you from feeling like you're staring at headlights coming towards you.
The 4-inch Halo gimbal lights are my top choice for vaulted ceilings for a few reasons. As far as appearance goes, what really sets them apart from other gimbal lights is their sealed design around the gimbal. Most other gimbals have a gap that is visible when you look up at them. These lights have a modern appearance that is nothing like the old "eyeball" recessed lights of the past.
I also like the brightness of 768 lumens, which is equivalent to most 6-inch gimbal lights. This is nice because you don't need to use such a large recessed fixture on a sloped ceiling where they are more pronounced than flat ceilings.
Dimming is smooth and flicker-free, and I've had no issues with buzzing when paired with Lutron or Leviton LED dimmers.
The final feature that makes these my top choice for sloped ceilings is their life expectancy of 70,000 hours. That translates to over 30 years of life when used an average of 6 hours per day. Since most sloped ceilings require a tall ladder to reach, the last thing you want is to have to get up there and replace a dead light every few years.
---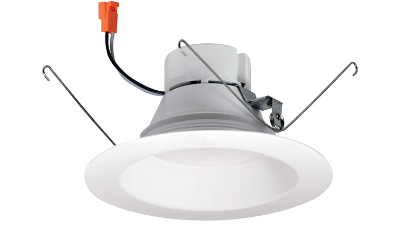 Size: 6-inch
Type: Fixed
Mounting: 5/6-inch housings
Color Temperature: Selectable (2700K-5000K)
Brightness: 1100 lumens
CRI: 90+
Beam Angle: 93 degrees
Wattage: 15 watts
Material: Aluminum
Smooth Dimming: Yes to 5%
IC Rated: Yes
Air-tight: Yes
Why is It the best recessed light for Flat ceilings?
As a lighting contractor, if I was asked to create a wish list for a LED recessed light, this is what it would look like:
Fits in most older style housings so that you could update (aka retrofit) existing incandescent recessed lights to match the new lights you install.
Available in 4-inch and 6-inch sizes so that you could use the same style lights for general and task lighting throughout a home.
Has trim color options besides white, such as black, brushed nickel, and oiled bronze.
Rated for wet locations so that it could be safely installed in bathrooms, above showers, and outdoors.
Dims smoothly, without flickering or buzzing.
The trim sits flush against the ceiling so it looks seamless without needing to caulk it in.
Meets Title-24 requirements for efficiency.
Rated to be covered with insulation (IC-rated)
Has a high lumen output so it could be used in high ceilings.
Has a very low failure rate.
Available at a competitive price for the consumer market.
The Nora Lighting Onyx TW series checks all of the boxes listed above, and for that reason I believe it is the best value in recessed LED lights on the market.
---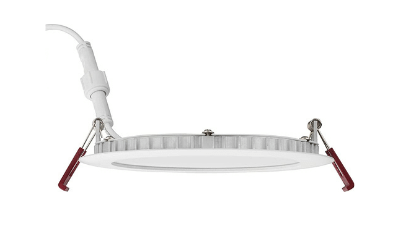 Size: 6-inch
Type: Fixed
Mounting: Direct-mount
Color Temperature: Selectable (2700K-5000K)
Brightness: 1050 lumens
CRI: 90+
Beam Angle: 110 degrees
Wattage: 12 watts
Material: Aluminum
Smooth Dimming: Yes to 5%
IC Rated: Yes
Air-tight: Yes
Why is It the best recessed light for Low ceilings?
The development of ultra-thin LED recessed lights has been a game changer in terms of what's possible for recessed lighting installation. With a profile that is as thin as a sheet of drywall, they can fit where traditional "can lights" can't.
While most major brands of recessed lights now offer an ultra-thin model, Amico's ultra-thin 6-inch is my preferred choice. Its combination of high brightness (1050 lumens) and very wide beam angle (110-degrees) make it ideal in areas with low or narrow ceilings like basements, hallways, closets, and bathroom soffits.
It has the features I look for in a product line, such as trim color options, selectable color temperature (2700K-5000K), and simple installation using the integrated spring clips.
The dimming range goes down to 5% without flicker, and the driver doesn't buzz or hum like other brands that I've tested.
Amico bundles the lights in packs of 6, 12, and 16 making them an incredible value. There is also a matching 4-inch version.
---
Guide To Buying The Best LED Recessed Lights For A Room
Now that you've seen my choices for the best lights, I'd like to teach you about the 6 specifications you should be familiar with when deciding on the best LED recessed lights to use in your home.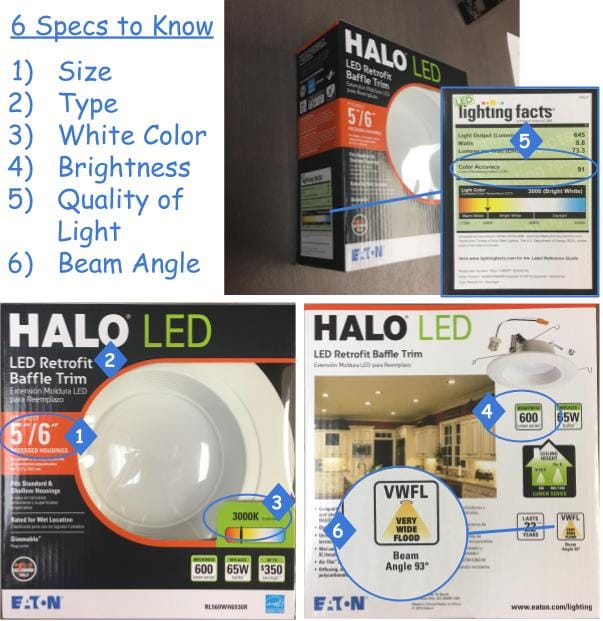 1. Size
Modern residential LED recessed lights range in size between 2-inches and 6-inches. Most homes use a combination of 4-inch and 6-inch lights, and you'll find the best selection in these two sizes.
When comparing the size of recessed lights, it's easy to assume that 6-inch lights are brighter than 4-inch lights. This was generally true with incandescent recessed lights, but not with LEDs. Many 4-inch LED recessed lights are equivalent to 6-inch lights in terms of brightness and beam spread. For this reason, choosing the best size LED recessed lights for a room is more of an aesthetic decision than a functional one. I recommend using the following approach.
Start with Consistency – If you already have recessed lighting in other parts of the house, consider matching their size for consistency. Just know that it is perfectly acceptable to mix sizes of lights throughout a home.
Visual Preference – Consider the scale of the room. For large rooms, or rooms with tall ceilings, I recommend using 6-inch lights for general lighting and 4-inch lights for task and accent lighting. For sloped ceilings, I prefer the appearance of 4-inch adjustable lights over 6-inch adjustable lights because they are less obtrusive.
One last note about recessed light sizes. When a label says it's a "4-inch" or "6-inch" recessed light, that is the measurement across the inside of the housing (diameter) with the trim removed.
2. Type
Primary Types of LED Lights
The two primary types of LED recessed lights are Fixed Recessed Lights and Adjustable Recessed Lights.
Fixed Recessed Lights – These are your standard LED recessed lights where the lens sits recessed inside the trim and is not movable. When the aperture is smooth it is called a reflector trim. If it has ridges, it's called a baffle trim.
Adjustable Recessed Lights – With Adjustable recessed lights (aka Gimbal downlights), the lens sits slightly recessed and is attached to an axis that allows it to tilt inside the trim, typically up to 35-degrees.
Other Types of LED Recessed Lights
There are two other types of LED recessed lights I'd like to mention which can be used for more specialty applications. They are called thin or slim recessed lights, and fully-adjustable or elbow recessed lights. Technically speaking, neither one of these types are recessed lights. They're actually surface lights.
Ultra Thin or Slim Recessed Lights – These lights are the newest type to hit the market. Just like their name implies, the lights are ultra-thin and they don't use a housing. These "canless" led lights have a remote junction box that houses the wiring and connections. Their advantage is that they can fit almost anywhere and you don't have to worry about clearance from ceiling joists above. A potential downside to this type of LED light is they can sometimes produce unwanted glare because the lens sits flush with the ceiling surface.
Fully Adjustable or Elbow Recessed Lights – Fully Adjustable (aka Elbow) recessed lights can adjust from flat to around 75-degrees and rotate 360-degrees. They give the greatest flexibility in aiming for accent and artwork, however they protrude from the ceiling making them much more noticeable than a standard adjustable recessed light. They should be reserved for situations where placement or ceiling angle requires more flexibility than a standard adjustable recessed light can provide.
Choosing the Best Type for a Room
The type of recessed light you use for a room should be based on the ceiling type (flat or sloped) and the purpose of the lighting.
Flat Ceilings – Use fixed (aka non-adjustable) recessed lights for General Lighting and Accent Lighting. Use adjustable recessed lights when you want to direct the light towards an object or wall for Accent Lighting. Adjustable lights can also be aimed straight down and used for general lighting on flat ceilings, but it's not as common because they generally cost more than fixed lights.
Sloped Ceilings – Use adjustable recessed lights for General Lighting and Task Lighting. The reason to use adjustable lights for sloped ceilings is they can be directed downward, rather than following the angle of the ceiling like fixed lights would. Aiming them downward with the lens parallel to the floor will minimize glare, especially when the seating in the room is facing the slope of the ceiling. In most cases, I don't recommend using recessed lights for Task Lighting from sloped ceilings.
3. Color Temperature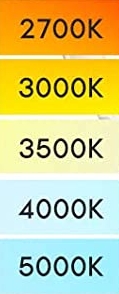 Correlated color temperature (CCT) is the actual color appearance of the white light, measured in Kelvins (K). It's often confused with brightness, but color temperature refers to the color tone of the light. The most common color temperatures are warm white (2700K), soft white (3000K), neutral white (3500K), bright white (4000K), and daylight (5000K).
Color Temperature and Dimming
If you're accustomed to dimming incandescent bulbs, you may notice that LED lights do not behave the same way when dimmed. The difference is the color temperature of an incandescent light gets warmer as it is dimmed, typically changing from 2700K at full brightness to around 2200K when dimmed very low. LED lights do not naturally change color temperature as they are dimmed. They remain at the same color temperature throughout the dimming range. This is not necessarily a bad thing, it's just different if you're not used to it.
Warm Dim LEDs
In an effort to mimic the warm glow of incandescent light when dimmed, some manufacturers offer "Warm Dim" or "Warm Glow" LED recessed lights. These lights change color temperature from 2700K to 2200K as they are dimmed, just like an incandescent light. They're a great option when you want to create a warm and cozy atmosphere at low light levels.
Selectable or Tunable White LEDs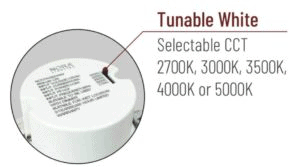 One of my favorite innovations in LED recessed lighting is "Selectable" or "Tunable" White LED lights. These fixtures have an integrated switch on the trim or junction box that allow you to adjust them in steps between various color temperatures. This means that you no longer need to choose the CCT of the recessed light before you purchase it!
Choosing a Color Temperature

The color temperature of lighting has a big impact on a room. Warmer tones in the 2700K-3000K range will make a room feel cozy, whereas the cooler temperatures like 3500K-4000K will feel bright and energetic. For this reason, I recommend choosing LED recessed lights that are tunable white. Then you can actually install the lights and adjust the color temperature to your liking based on how it looks and feels in the room. It's okay to vary the color temperature between rooms, but I would stay within one or two steps warmer or cooler.
4. Brightness
The brightness of LED recessed lights is given in lumens, not watts like incandescent lamps of the past. Don't make the mistake of comparing watts between LED lights to compare the brightness. Some LEDs are more efficient than others and therefore use less watts to produce the same or more lumens.
For general lighting, I recommend using lights that produce at least 600 lumens for standard height ceilings, and at least 900 lumens for tall ceilings. Most LED recessed lights on the market will be within this range. As long as you have a dimmer switch installed (which you always should), the higher the lumen output the better.
5. Quality of Light
Color rendering index (CRI) is the measurement of a light's ability to display colors accurately in comparison to an ideal or natural light source. Using LEDs with a high CRI is important so that colors will appear as they were intended. The best LED lights have a CRI of 90 or higher.
6. Beam Angle
LED beam angle is where the concentration of light is 50% or greater. Most LED recessed lights (aka "Retrofit" LEDs) have a very wide beam angle, typically above 90-degrees. While this is great for spreading light, too wide of angle can cause excessive glare when looking across a ceiling. Some manufacturers will give the beam angle of the light in degrees, and others will simply label them Flood or Spot lights. For general lighting in a room, use lights with a beam angle greater than 40-degrees or labeled as flood type.
In Conclusion
There are hundreds if not thousands of LED recessed lights on the market today. By familiarizing yourself with the meaning behind the specifications that manufacturers provide, you can make an informed decision on the best recessed lights for the rooms of your home. If you'd prefer to skip the research, you can take my recommendations for the best low ceiling, flat ceiling, and sloped ceiling recessed lights above.