Recessed lights are categorized by their size. The most common residential sizes are 4-inch, 5-inch and 6-inch. This leads to the common question; "What is this size is actually referring to?"
The answer is the size of the inside diameter of the housing (aka "can") with the trim or LED module removed.
How to Measure What Size Recessed Lights you Have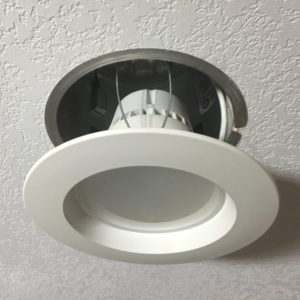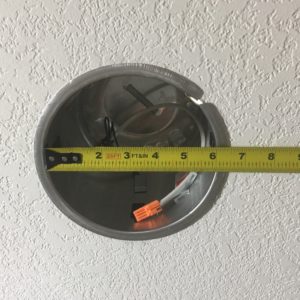 Housings sizes can vary a little between manufacturers, but they should measure close to a whole number – either 3″, 4″, 5″, or 6″.
The Wrong Way To Measure Recessed Lights
A common mistake is to measure the outside of the trim which will give you a larger (inaccurate) measurement. Another mistake is to measure the diameter of the cut-out opening in the drywall. Again, this will be larger than the inside of the housing that fits in the hole.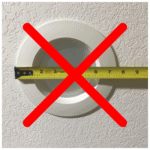 Other Ways Recessed Lighting is Measured
Housing Height/Depth
Recessed light housings are measured by their height as well. The metal "cans" come in two heights – standard and shallow. This is true for both remodel housings and new-construction housings. 
Common practice is to use standard housings unless they are taller than the ceiling joists, in which case a shallow housings would be needed. If there's an attic space above the ceiling then standard housings can be used regardless of the size of the ceiling joists.
4-inch Housings – Standard 4-inch housings are 5-1/2 inches tall, and shallow housings are 3-1/2 inches tall.
5-inch and 6-inch Housings – Standard 5-inch and 6-inch housings are 7-1/2 inches tall, and shallow housings measure 5-1/2 inches tall.
Maximum Wattage
Recessed lights can be measured by their wattage rating. When power calculations are being made on an lighting plan, the fixture's maximum wattage rating is used.
IC Rated incandescent housings are usually rated for 75 watts maximum, which means you cannot safely use a bulb larger than that. Non-IC incandescent housings can be rated as high as 150 watts, but they are not for use in ceilings with insulation. 
Efficiency
The efficiency of a recessed light is measured by how much power it consumes in relation to how much light it produces. This specification is known as lumens per watt (lm/W), and is one of the deciding factors in determining if a luminaire meets building code requirements for energy efficiency.
Common Sizes for Residential Recessed Lighting
4-Inch Recessed Lights
4-inch recessed lights are often used for accent and task lighting, but they are becoming more popular for general lighting as well. The standard ceiling cut-out size for 4-inch housings is 4-3/8 inches, and the inside diameter of the housing with the trim removed measures approximately 4-inches.
5-Inch Recessed Lights
Of the three most common sizes of can lights, 5-inch is the least used. That said, if your existing incandescent lights measure 5-inches and you want to update to LED, you're in luck. Most LED Retrofit modules are "5/6-inch"  compatible which means they have an adjustment that allows them to fit either 5-inch or 6-inch housings. The standard ceiling cut-out size for 5-inch housings is 5-5/8 inches, and the inside diameter of the housing (trim removed) measures approximately 5-inches.
6-Inch Recessed Lights
The most common size recessed light is 6-inch. The standard ceiling cut-out size for 6-inch housings is 6-3/8 inches, and the inside diameter of the housing (trim removed) measures approximately 6-inches.
Less Common Sizes of Recessed Lights
2-Inch and 3-inch Recessed Lights
As LED lighting technology continues to evolve, smaller LED size downlights like 2-inch and 3-inch are becoming more popular. These small lights are typically used for cabinet lighting, but they also work well as accent lights in small spaces like a soffit.
8-Inch Recessed Lights
Although rarely used in residential homes, 8-inch recessed lights are very common in commercial properties. These lights typically consume higher watts and produce more lumens than smaller size recessed light fixtures.
Canless LED Recessed Light Sizes
Canless LED recessed lights do not use a housing at all. If you need to determine what size a canless recessed light is, I recommend measuring the diameter of the ceiling cut-out and rounding to the nearest whole number which should be either 3″, 4″, 5″, or 6″.
A common reason someone would want to measure the size of their recessed lights is they want or need to replace them. If that's you and you plan to do it yourself, I recommend you start by replacing just one successfully. That way you can be sure the new light fits properly, and the project is something you want to tackle yourself rather than hiring a contractor or electrician to do for you.